2018 - 2019 UCCL Prayer Chaplains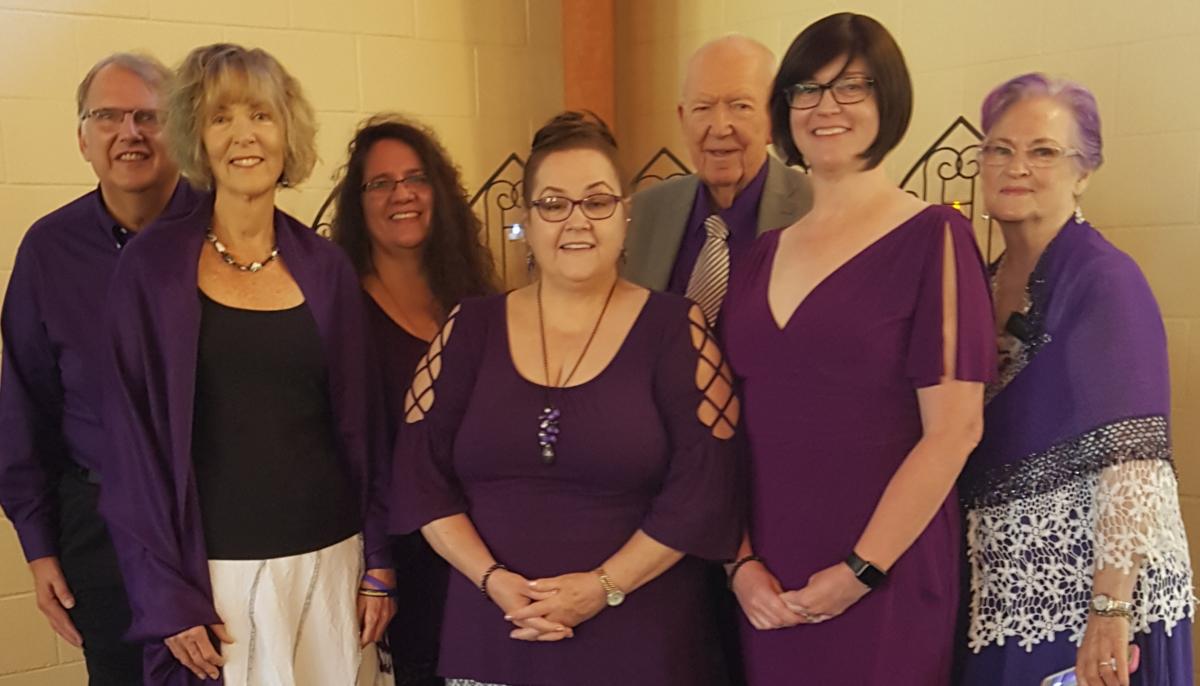 Bill, Sally, Helen, Mesha,
Bob, Lisa, and Alisa
Photo by: Marianne Gennaro
A Prayer Chaplain is always available to 
pray with you after each Sunday Service
In an effort to answer any questions or concerns that you may have regarding The Prayer Chaplain Ministry we have provided answers to the following frequently asked questions:
#Why doesn't my prayer Chaplain follow up with my Prayer Requests?
#Can I opt out of the Wellness Calls?
#May I choose my Prayer Chaplain?
#How Often is the UCCL Prayer line checked?
#When can I expect my Wellness call?
#May I call my prayer chaplain with specific requests?
#Will my prayer chaplain help me solve my problems?
#Are there limitations of what I can asked to be prayed for?
#How can I become a prayer Chaplain?
Prayer Chaplains are here to hold Sacred Space, to listen to you, to pray with and for you for your highest good. Everything you share with us is in strict confidence.

At least two of the Prayers Chaplains are available after every Sunday morning service, for those who would like one-on-one prayer.
Prayer Chaplains also make monthly "Wellness Calls" to active members of Unity Church for Creative Living (UCCL) to offer their support in prayer.
When requested they will visit members when they are homebound, in the hospital or other facility and unable to come to Sunday service.
If you'd like to reach one of the Prayer Chaplains, please phone 904-287-1505 and request a call from a Prayer Chaplain. A Prayer Chaplain will get back to you as soon as possible.  You do not have to be a member of UCCL to call for prayer
If you need immediate prayer please call Silent Unity at 1-800-669-7729.
Prayer Chaplains are not ordained or accredited by any national organization. They have not been trained to counsel, fix or advise anyone. They are not trained to go out and "minister" to the larger community. They are volunteers who give of their time to serve as a lay resource within their church community.
My Prayer Chaplain never asks me how I'm doing with an issue we have held in prayer.  Do they not care?
When your prayer chaplain prays with you they release the prayer to God.
Part of the strict confidentiality in which we hold your prayers is that we will not be the one to revisit the issue with you as it is in God's hands. 
You are always welcome to talk to your Prayer Chaplain regarding issues previously held in prayer
Can I opt out of "Wellness Calls" program?
If you would prefer not to be contacted monthly by a Prayer Chaplain please call the church office at 904-287-1505  and let us know. We suggest that you experience this gift before making that decision. You can request to be added back into the program at any time.
May I choose my Prayer Chaplain?
Your Prayer Chaplain was randomly assigned according to the alphabet, with each Prayer Chaplain receiving approximately the same number of members to contact.
If I call the Prayer Chaplin line at UCCL, how often is it checked for messages?  When can I expect a return call?
The Church Office line, 904-287-1505  is checked daily. Since all Prayer Chaplains are volunteers and will have their own busy lives as well, you will not receive an immediate callback; however, a Prayer Chaplain should be able to get back to you on the day you call.
If you have an immediate need for prayer please call Silent Unity at 1-800-669-7729 (1-800-Now-Pray)
Please remember that

 

the Prayer Chaplain Line is

 

not

 

a crisis line, nor a place where you should expect to leave messages of a critical or immediate nature.  If you have an

 

emergency, please call 911. if you are dealing with a crisis we invite you to call: Silent Unity at 1-800-669-7729 (1-800-Now-Pray)
United Way's 24 Hour Community Information Service at 211 or 1-904-632-0600
When will my Prayer Chaplain be in touch?
Each of the Prayer Chaplains sets his or her own calling schedule. Times may vary month to month. It is our intention to make some contact (by phone, by leaving a message, or by sending a postcard) with every active member at least once every month.
If my Prayer Chaplain calls only once a month, can I phone them at home for a specific prayer request?
Please

 

do not

 

call your Chaplain at home or work. Call the church office at 904-287-1505 in order to get in touch with a Prayer Chaplain so that we can be of best service to you. Our Prayer Chaplains are volunteers in service to our church community. Their private home or cell numbers are not the appropriate way to get in touch with your Prayer Chaplain.
Will my Prayer Chaplain be able to help me solve my problems, too?
We are not here to judge you, to advise or counsel you, or to solve your problems with or for you. We are here to share in the blessings and challenges of your life, in compassion and in joy. Praying with a Prayer Chaplain can help to deepen your prayer life, help you tap into the resources within you, and connect with God in a real and practical way.
Are there limitations as to what I can ask to be prayed about?
There is nothing too small nor too large to share with your Prayer Chaplain for a quiet moment of blessing or peace in Spirit. Remember that our Prayer Chaplains are not a problem-solving agency or a chat service, but we are genuinely interested in hearing about what's going on in your life and how your personal spiritual adventures are evolving.  All prayers are held in strict confidence.
I would like to consider becoming a Prayer Chaplain, too.   How does that happen?
In order to become a Prayer Chaplain, you must:
Be an active member of Unity Church for Creative Living
Complete a Prayer Workshop
Be accepted as a candidate to complete the Annual Prayer Chaplaincy training
Complete all requirements of the Prayer Chaplaincy Training program
Agree to serve for a year