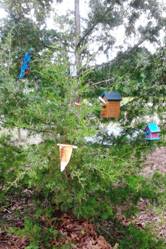 The "PoeTree" is Resurrected!
Let the beauty we love be what we do…
There are hundreds of ways to kneel and kiss the earth.  ~Rumi
Some of us poetry lovers have moved and replenished the PoeTree, a memorial in honor of UCCL friend Helena Brook. The new location is a lovely cedar just outside the fountain area. Come visit this interactive memorial and enjoy discovering snippets of poetry in birdhouses, bottles, pottery, and more. Anyone is welcome to add poetry of an inspirational, heart-opening or whimsical nature.